Regular price
$284.95 USD
Regular price
Sale price
$284.95 USD
Unit price
per
Sale
Sold out
Genuine Issue

Made In USA
Low stock: 2 left
Naval Pea Coat - Material: Melton Wool - Mil-Spec

Description

Our Classic 32 oz. Melton Wool Naval Peacoat, military anchor buttons, hand warmer pockets, Two inside chest pockets,vented back and nylon quilted lining. Our wool is 80% reprocessed wool, 20% nylon and other fibers. The contents are interlocked and pressed together before the wool is cut to ensure maximum protection against the elements. The Navy on the 740 is a traditional dark navy color that is almost black. You would notice blue hint when comparing to actual black. Made in the USA.
32" Length (also available in long sizes 34" Length)

32 oz Melton Wool

Military Anchor Buttons

Hand Warmer Pockets

Two Inside Chest Pockets

Vented Back

Nylon Quilted Lining
Made In U.S.A.

The US Navy Pea Coat was adopted during the early 20th Century, from Britain's Royal Navy Reefer Jacket. The Royal Navies first regulations for uniforms for other ranks were issued in 1857, a century after the regulations for officers and this garment was originally used by Midshipmen ( Reefers ). These crewmen had to climb the rigging and furl and unfurl, or 'reef', the sails of the sailing ships of the era.
The jacket was short, to allow ease of movement through the rigging. It had a double-breasted front, which displaced the buttons to each side. This helped reduce the chance of them getting caught on ropes, as the wearer maneuvered the sails. The pockets were often close to vertical, and over the flanks, rather than horizontal and at wrist level. It was made of a very heavy wool, in dark Navy blue, with a nap on the face side.
The success of the style is proved by its singularly universal appearance throughout the Navies of Europe. This may account for the US Navies nomenclature as an Anglicization of the Dutch 'Pijekkat, being a jacket made of 'Pij' (a coarse wool) cloth. Conversely, it may be from the shortening of the Belgium Navies term 'Pilot's Jacket' to P. Jacket, then being misspelt / adapted to Pea Coat. The term 'Pea Jacket' is reputed to first appear in the Oxford English Dictionary between 1717 and 1723. 'Pea Coat' does not appear for another century
SKU:24305
Share
View full details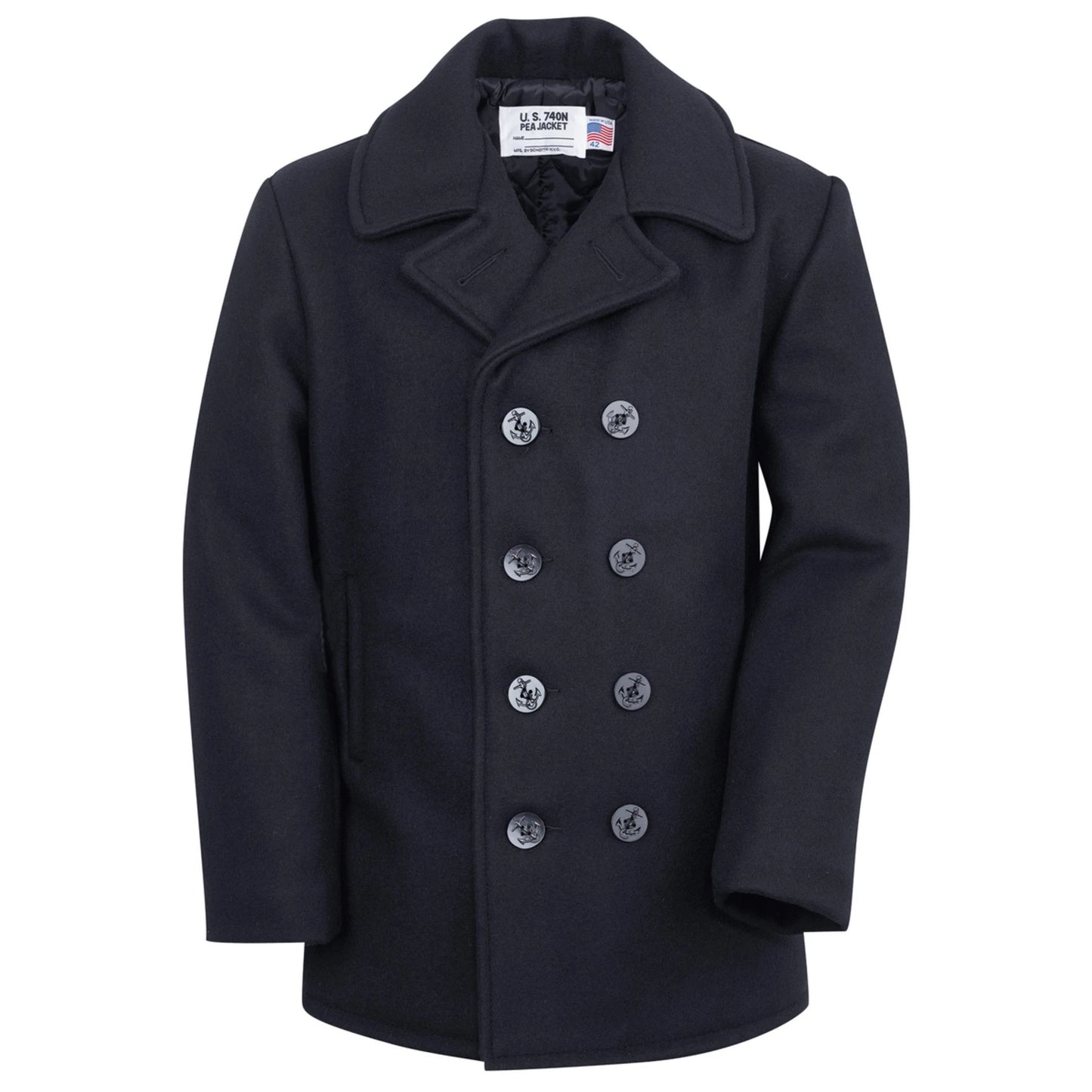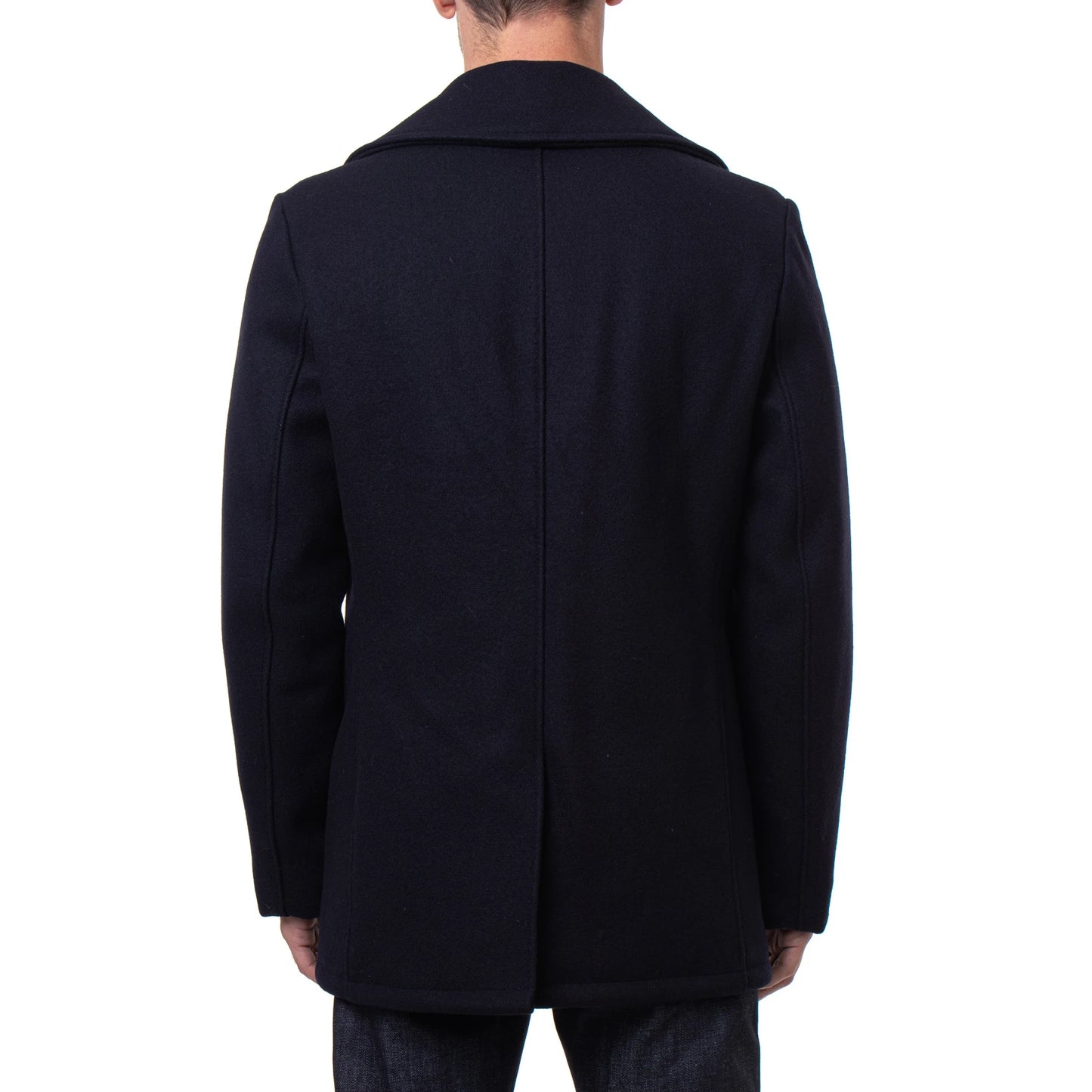 Legit
Great heavy duty coat. Very thick, warm wool. The length is the big deal, though. Every other pea coat I tried was the same length as a suit jacket. This one is longer so it covers a suit and your butt! This make is even warmer. It's also really well built. I hope one of my kids wants it after I'm gone because it's going to last forever. It also just looks great. It's quite dashing. And, made in USA! You can't go wrong with this coat.
This authentic pea coat will keep you warm and dry, but also make a style statement. Classic.