Regular price
Sale price
$12.95 USD
Unit price
per
Sale
Sold out
38 in stock
Navy Sailor hat also known as the "Dixie Cup"
It can be squared, rolled, crushed, fitted with "gull wings" or simply worn as it comes from small stores. It can be used as a flotation device or a sun shield or even, some claim, as a dog food dish. With its many shapes and uses, it may be the most versatile article of clothing a Navy enlisted man wears.
According to Naval Historian John Reilly, "The 'dixie cup'-style hat has appeared and reappeared in the Navy as part of the uniform since it was first written into the uniform regulations of 1886."
That year, the white canvas hat became the replacement for the straw hat previously worn during the warm weather months. The Navy needed a practical summer hat that was easy to clean and stow, cheap to manufacture and comfortable to wear. During the winter, sailors continued to wear a flat, black hat.
Current Navy uniform regulations say the hat must be worn "with the lower front edge approximately one-half inch above the eyebrows and not crushed or bent in the middle." That leaves a lot of possibilities.
By reshaping the white hat or "dixie cup" to suit their personal style, enlisted sailors have been able, for more than 100 years, to express some measure of individuality in a uniform world.
SKU:8821
Share
View full details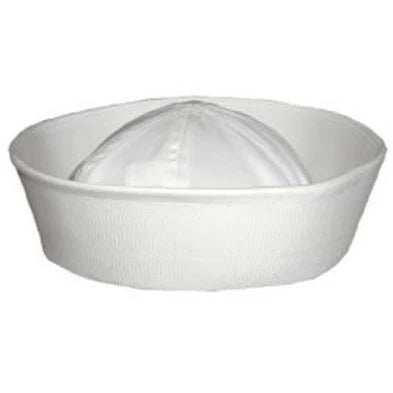 Authentic United States Navy Sailor Hat - Dixie Cup